Dear Club Presidents and Award Chairs,
The 2021 Jane M. Klausman Women in Business Scholarship materials are posted on the Zonta International website.
Clubs should send their selected JMK Candidate's Application to [email protected] by AUGUST 1.
Please note:  A completed application is one document in pdf format that includes the Cover Sheet for Clubs, the Application and the Supporting documentation.
There are various useful internal materials on the ZI and D4 website regarding the JMK Women in Business scholarship. These include:
Application form
Cover sheet for clubs
Evaluation criteria
Guidelines for Clubs and Districts/Regions
Poster
Recommendation Letter cover sheet
Verification of current enrollment form
Sample Club Certificate
The link to access all these material is: Award Scholarship Fellowship Tools (zonta.org)
I trust these materials will be useful to Club Award Chairs and Presidents.  Please direct any questions to [email protected].
The District 4 Awards committee would like to thank you in advance for your dedication & commitment to Zonta. 
Beth Zak, D4 Awards Committee Chair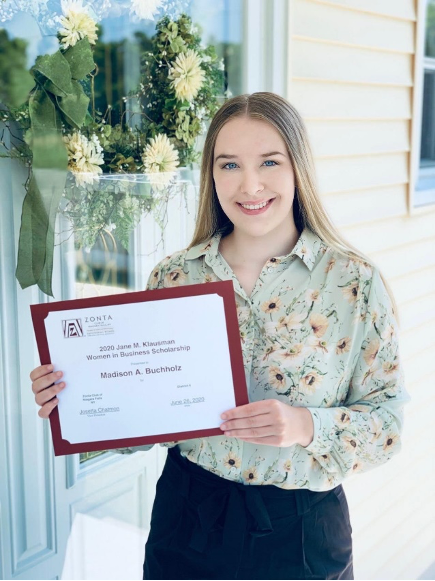 Madison Buchholz, the 2020 JMK Women in Business Scholarship.