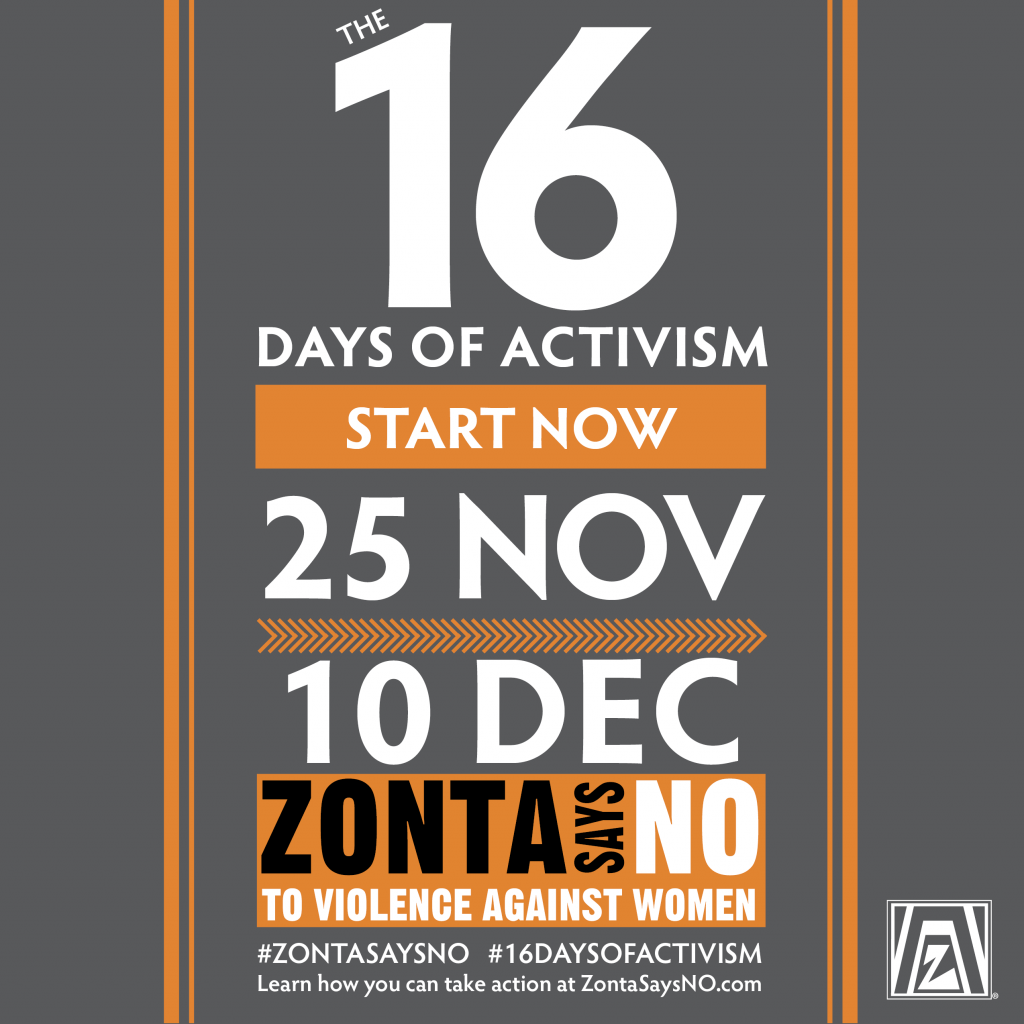 There are many ways for you and your club to engage in Advocacy for the 16 Days of Activism/Zonta Says No to Violence Against Women. Some of you have forwarded ideas you have and things you have already done.
The Zonta Club of Niagara Falls, Canada, holds a ceremony at Table Rock at the Canadian side of the Falls. The actual ceremony has changed due to COVID-19 but the idea remains the same-honoring those who have been victims of gender-based violence. This year the lights at the Falls will turn Orange at 10 pm.
Last year, a few of us came to the American side of the Falls to participate as we couldn't cross the bridge. We will gather again this year at 9:45 pm. and have our own vigil as we will not cross into Canada. We will be waving our flashlights across the Gorge to try to make contact with our Canadian sisters.
The Advocacy Committee, in association with D4 Communications (Kat McClendon Bunyan) have prepared a PPT that will be displayed each day, starting on November 25. Please go to Facebook, Instagram and Twitter and Like and Sharethese slides. It is a great way for you to participate in Advocacy and let everyone know what Zonta stands for.
We also would like to display photos and information for the activities that individual and groups of clubs get together to do. I received information from the Zonta Club of Warren on working with the Children's Advocacy Center of Warren County and providing them with items they needed. I also received notice of the Guelph Club planning to have their Town Hall lit in Orange lights for the entire 16 Days of Activism. I am hoping to receive photos from them both.
If you can arrange a vigil anywhere, show up in Orange hats and other Orange outerwear and arrange to have pictures taken with your club and a local official if you can. If you go to the Zonta International sight, go to ZontaSaysNo.com and you will find a number of ideas and examples of what other clubs have done. Please send us what you decide to do. It will provide ideas for other clubs to do-remember imitation is the sincerest form of flattery and reflection on your club, especially if clubs are not sure what they want/can do.
Go to the www.zontad4.org and [email protected], to the resource page or the Advocacy page and there will be other ideas for you.
I am so looking forward to seeing what you decide to do and making everyone aware of what they can do, too.
Sincerely,
Kathi Scanlon, Hamburg-Orchard Park, Zonta D4 Advocacy Chairperson
Advocacy Committee: Julie Brown, Stratford; Joan Westcott, Kitchener-Waterloo; Lee Fogarty, Pittsburgh; Tanya Tagwerker, Guelph; Kyle Patterson, Niagara Falls, NY