Amelia Earhart Fellowship Award Program
Zonta International, through its foundation, is awarding Amelia Earhart Fellowships to outstanding women pursuing graduate degrees in aerospace-related sciences and engineering for the upcoming academic year. Chosen from applicants worldwide, this prestigious award is given to the women graduate students exhibiting the most promise in advancing the field of aerospace and engineering. Past recipients are from Australia, Canada, France, Germany, Iceland, Italy, Lebanon, P.R. China, South Korea, Spain, Netherlands, Turkey, United Kingdom and USA.
Zonta International is proud to honor these women as part of the legacy of Amelia Earhart, a famous air pioneer in the 1920s and 1930s and a member of Zonta International. By her example, Amelia Earhart encouraged women to expand their horizons by exploring occupations and holding positions beyond those traditionally held by women. By supporting the Amelia Earhart Fellowships, Zonta International encourages women to enter the aerospace-related fields and keep the Earhart legacy alive.
Contact Zonta International or the Awards Office of your college or university for more information.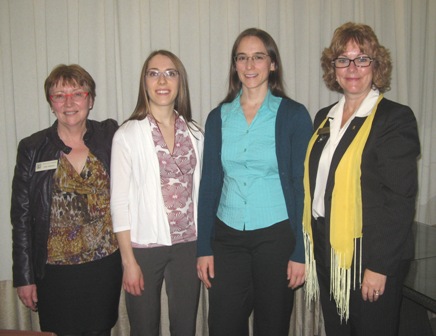 In February, 2012 Holly Anderson, Amelia Earhart International Committee  Member, presented wings to Heather Clark and Sarah Burgess in Toronto. Lori Robinson,  Co Chair of the D4 Amelia Earhart committee assisted.