Social Media Images and Post Content
Actions You & Your Club Can Take
One
Select a Facebook profile photo frame for the 16 Days of Activism to make your own statement.
ZI website > My Zonta > Tools > Advocacy > Zonta Says NO > PR Tools.
Two
Use the 2021 campaign PowerPoint presentation to introduce the 16 Days of Activism to your club or community partners.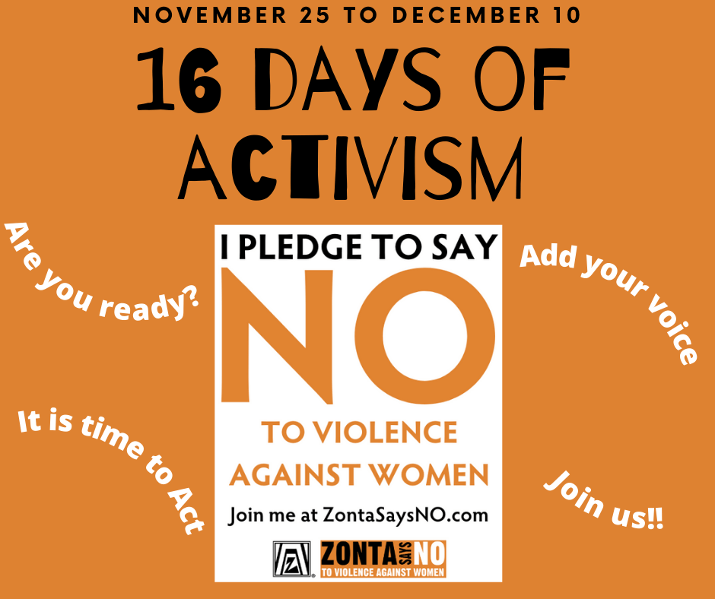 Three
Save time and energy by using the social media content developed by D4 Advocacy & Communications to expand your club's reach during the 16 Days of Activism.
Click on an individual image for each campaign day and save it to your device for your social media post. If you wish, copy & paste the suggested social media text or create your own for each of the hashtags.
Suggested text for all social media:
From November 25th-December 10th you will see daily messages highlighting the issues surrounding and actions you can take towards ending violence against women and girls. Please like and share every day to spread the message!
Check out the toolkit for other ideas! http://surl.li/apobk
Facebook/Instagram:
Get out and show your support. Say NO to Violence Against Women.
#ZontaSaysNO
#ZontaD4
#AWorldWithoutViolence
Twitter Text:
Get out and show your support.
Say NO to Violence Against Women
#ZontaSayNo #ZontaD4 #Aworldwithoutviolence #16days @ZontaIntl @ZontaD4
www.zontasaysno.com
Content developed from Zonta International 16 Days of Activism Toolkit and D4 Advocacy Committee Kathi Scanlon, Julie Brown and Tanya Tagwerker. 16 Day social media images created by D4 Communication's Kathyrn Bunyan McClendon.