District 4
Amelia Earhart Fellowship Program
AE Award, Ideas & Resources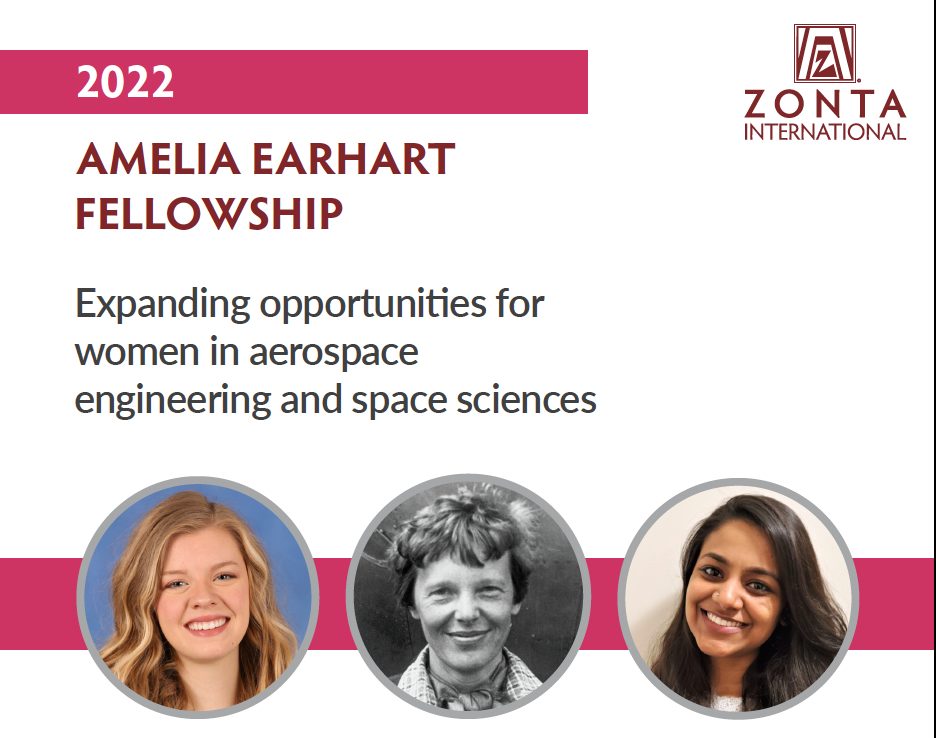 District 4 Is Committed to Sponsoring Two Amelia Earhart Fellowships
this Biennium.
LET US CONTINUE TO HONOR
OUR INTERNATIONAL PRESIDENT AND AE FELLOW, SHARON LANGENBECK

Contact [email protected] to discuss your donation.
WE CAN DO THIS TOGETHER!

JANUARY 11th
IS AMELIA EARHART DAY
This is an opportunity for you and your club to promote women in the aerospace industry, and the Amelia Earhart Fellowship program and recipients in January.  Review resources to use, if you wish, in your discussions.
Holly Anderson, ZI & D4 Amelia Earhart Chairperson and Amelia Earhart Fellowship Recipient
Zonta International Announces the 2021 Amelia Earhart Fellows

Top row (L to R): Casey Eaton, Preethi Rajendram Soundararajan, Ekaterina Landgren; Bottom row: Abigail Berhane, Laura Pernigoni, Jamie Voros
Learn more about the extraordinary women breaking barriers in aerospace
Zonta International is pleased to share more information about the Amelia Earhart Fellows of 2021. 
These 36 exceptional women pursuing Ph.D./doctoral degrees in aerospace engineering and space sciences are from 22 countries and studying fields such as aerospace engineering, aeronautical engineering, planetary science, applied mathematics, astrophysics instrumentation and more.
Click here to read the bios of the 2021 Amelia Earhart Fellows.