D4 Club Member Retention
Best Practices, Strategies & Material
Click on the image above to take you to the section below.
Content is derived from ZI 2018-2020 Global Membership Drive (GMD), 2020 – 2022 D4 Membership Committee & D4 Clubs.
Are Club Members Engaged in Club, District & ZI Activities?
Members join Zonta to be an active member in supporting the Zonta mission and vision.

Do Club Members Have Purpose & Engaged in Club Activities?
Members don't join Zonta to sit in meetings.  Ensure members are active and engaged in club activities that align with their passion.
Membership Is there a good atmosphere in the club with friendships and respect for diversity?
Is there regular inquiry about members' interest or lack of participation?
Do fundraising activities include active participation by all members?
Are committee activities/projects know to all members with an invitation to help?
Do committee members feel needed and useful?
Resources: Membership Lifecycle, Evaluating Membership Engagement Empowering Ourselves Activity
Engage passive members
Request a passive member to research a topic or project and share interesting findings with the club.  Action may encourage a member to become the club expert/go-to person for topic information.
Recognize the actions of passive members.
Ask a passive member to mentor, train, be a presenter, event/meeting greeter, be a buddy, etc.
Sharing Club Material: ZC of Warren – Membership Brochure
Assign new members to a committee.
Set precedence for future club involvement and align personal interest with club needs.
Are members aware of District 4 activities opportunities?
Ensure members receive District 4 communications.  Contact [email protected] to update email contact information.
District 4's free online sessions to engage district members.  Sessions generally occurring the first and third Monday of each month.
Does your club offer 'Zonta Moments' that inform the membership of District 4 & ZI activities?
D4 Talks: one-hour session generally lead by a district committee to impart information to help clubs participate in current or future activites or campaigns. Example: Amelia Earhart two months prior to celebrating AE in January.
D4 Learning: 1.5-hour session that provides content to assist clubs in distributing topic information to club members and to aid in club operations. Example: Personalities within Clubs, Resiliency, Membership, etc.
D4 Training: Treasurer Training; ledger & report templates, their setup, use and function.  ZOOM 101 & 102 Training; fun hands-on time to experience online meetings starting at the very beginning.
District Workshops are host each year by a clubs in two or three locations in the month of April.
In non-COVID time, members gather to rekindle relationships, learn new things, share stories and best practices or meet with similar leaders such as presidents, Area Directors, Committees etc.
District Conference is a three or four day weekend event held in the odd year of the biennium.
District business is discussed and voted on by club delegates & new District 4 leaders are elected.
Meet international director and get to know your district board & committee leaders.
Relax, have fun with new and existing Zonta friends from across the district.
Find out more on District 4 website > Engaging in Zonta
Engagement beyond your club?
Clubs promote being part of an international organization and district in recruitment.  Don't forget to follow through on what you highlight!
District 4 is an international district with 33 clubs, 22 in the states of Pennsylvania and New York, while 11 clubs in central southwestern Ontario.
Consider contacting other clubs to visit and attend a meeting.  Swap best practices and diffent approaches to lessen members' workload and refresh traditional operations.
Support smaller clubs by including them in your events, activities, and programs.
Attend other clubs' events and activities to support each other and grow membership opportunities.
Promote and have your club recognized it does.  Contact D4 Communications following D4 Communications guidelines about your project, initiative, event & outcome. 
Are members engaged with Zonta International?
Visiting the District 4 and Zonta International website, social media posts on Facebook, Twitter & Instagram will keep clubs & members up on recent changes and new developments.
Zonta International – My Zonta, is a members-only password-protected access portal to a wealth of information to assist members and clubs.

Resource: Accessing My Zonta

Engage through social media

ZI Canada Group – request to be a member
ZI LinkedIn: Various leadership groups
Share Your Story with ZI

This link will take you to ZI's online 'Share Your Story' form.
Participating in Zonta Talks to learn about our leaders, programs and our global community.
Zonta International Convention is held at the beginning of a biennium in the even-numbered years. Location is selected by the International Board.
2022 Convention in Hamburg, German more information
2024 Convention in Brisban, Australia.
Visit an international city and enjoy learning cultural practices of the country and host city.
Zonta International business is conduction and votes cast by each club delegate on behalf of their club.
Meet, socialize, & network with Zonta members from across the globe.
Do you know you really know your members?
Seek out the interests and concerns of club members before they leave the club.
Regularly check-in with members
Define who's responsible for following up with members whether the president, membership committee member or the caring and considerate member. Determine the best means of connecting with a member.  It might be a phone call, quick text, or leisurely chat over coffee.
Follow up with members who miss meetings.  Is there a specific reason that's club-driven or personal?
Overwhelmed members may need to hear that other club members can relieve them of responsibilities for a period of time.
A Conflict between members needs to be heard, understood/investigated and solutions determined and resolutions followed up.

Is it an issue of communication or is it a systemic club issue?
Members can internalize a small problem only to have it fester and present itself in less than optimal ways and leave the club.
Sharing Club Experience: D4 Post from ZC of Toronto, Keeping in Touch with Members
Member Surveys
Don't find out there are issues when members leave the club. Find out what is working in your club and what's not enjoyed while there is time to make changes. A member's interest may change yearly or from when they joined.Yearly membership surveys: can include how club business is conducted and length, "workload" of committees, too much or too little social time, suggesting new projects, how happy are members, etc.
Investigate and if feasible act on suggestions offered.
Don't take criticism personally, use it as a tool to improve club life.
Example: Current Membership Survey
Exit Surveys: Find out why a member leaves, especially if it is early in their Zonta life.Ensure responses are kept confidential
Example: Club Member Exit Survey.
When Members Leave
At some point, a member will leave the club.  Knowing why will assist you in helping the member move on, possibly to another form of Zonta membership.  Information gathered in a casual or formal exit interview will help your club discover the good qualities operating in the club as well as unknown issues, internal conflicts, or if there was a disconnect between the club and member.  Information will aid to improve the club.
Maintaining Relations
A departing member can still be a valuable resource for the club as a volunteer for events, continue offering specific skills to the club or as a connector between the club and community.
Offering Alternate Membership Options
Offering alternate options may keep the member in Zonta and even possibly return to your club in the future.
Example: Letter to Resigning Member

Are Your Club and Members' Achievements Being Recognized?
Appreciating your members is an important means of retaining members.  Promoting club achievements can gain community awareness of Zonta.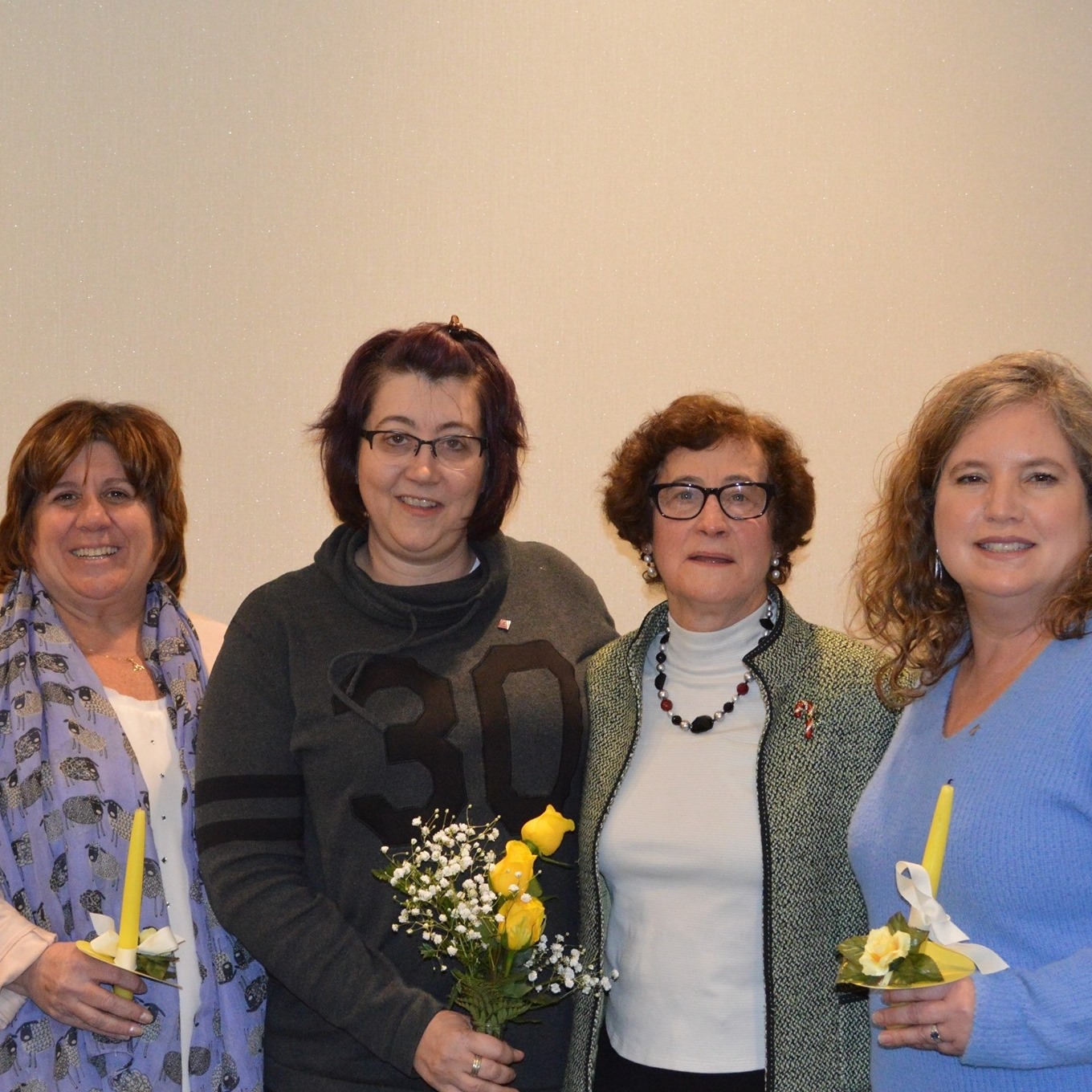 Recognizing Club Members
Zonta members are volunteers and can contribute many hours of service to your club.  Know your members and what recognition and appreciation are appropriate and consistent. A small act or simple thank you can go a long way in retaining their commitment and enthusiasm.
Publicly recognizing your member if appropriate and consent were given. Use the opportunity to showcase your members and the role they play in your club, who you are and what you do in the name of Zonta.
Acknowledge a member's years of service or leadership role in the club.
Create a club member award that is given to a member(s) monthly, quarterly or yearly recognizing their contribution or acts of excellence.

Example: Member Recognition
Recognizing Club Achievements
Allow members to be proud of their club's achievements of funds raised, financial contributions to community & ZI, club milestones, successful events and projects etc.
Acknowledgement in community, district & ZI communication tools.

Example: social media, print, D4 & ZI online.
D4 Communications Guidelines.

Opportunities for Personal & Professional Growth & Engagement
Individuals become and remain in Zonta for a variety of reasons.  Ensure the club offers as many opportunities as possible.
Social Opportunities
A club's demographic may indicate the needs of members.
More social opportunities outside meetings and committee work.
 Book clubs, travel, art & museum tours, hiking/skiing group, an evening of cards, golf games, open mic nights, etc.
Engage with other clubs and their members.
Engage at district events, North American Intra-district Meeting, Convention
Personal Opportunities
Personal Learning Opportunities
Learning sessions/classes: cooking, yoga, meditation, self-healing, social media how-to, languages, etc.
Consider contacting a club when travelling outside your own district.
Professional Opportunities
Professional Learning Opportunities
Leadership training, business etiquette, leading committees,  club board experience, conflict resolution, coordinating events, non-profit management,
Example: D4 Leadership Development Program