Projects, Resources & Inspiration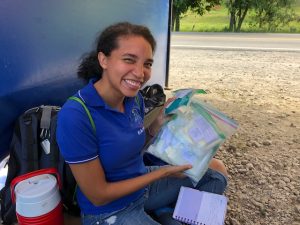 To ensure membership within Zonta International our District and D4 clubs must have a standing Service committee to comply with the mission of empowering women worldwide through service and advocacy.
Zonta Service
ZI also encourages clubs to develop new projects to refresh members' involvement and to offer a service unique to their own community.
Encouraging new collaboration with two like-minded organizations.
District 4 welcomes ideas for district projects. Projects are voted on by delegates at the District Conference and implemented the following biennium.
Click on arrows to display more service posts & club service projects

Zonta Club of Guelph
D4 Service Club of the Month
Chartered: 1979
Area 1
Number of Members – 10
Contact: Tanya Tagwerker
On a cold February 26th evening, a small team of Zonta Club of Guelph members, along with thousands of Canadian across the country, participated in Coldest Night of The Year, by walking to fundraise to support and serve people and families experiencing homelessness, hurt and hunger in their community. They surpassed their goal with a total of $1450.00 going to the Hope House in Guelph.
Hope House operates and advocates on the belief that poverty, food insecurity, inequality, health and community are all interconnected. They offer services and programs that challenge the stigmas surrounding poverty and allow our community members to maintain their dignity and choice, while simultaneously providing them with tactile skills developed in a community environment, creating long-term skills that facilitate self-sufficiency.
Hats off to the Zonta Club of Guelph for their support of this impactful project in their community!
As I say, make your service projects fun and they will be successful.

Brenda Graham, D4 Service Chairperson

Club service projects are a vital aspect of a club resilience, membership in Zonta International and engaging new members.  District 4 has a history of achieving Zonta International Service Award Recognitions. Share your club projects with us and be inspired by what D4 clubs are doing.

More than 650 million girls and women alive today were married as children — before they were 18 years old.

Zonta International is passionate about providing life-changing opportunities for women and girls through international service. Zonta has improved women's health, provided better economic opportunities and prevented gender-based violence in 66 countries.