Service Policies, Guidelines & Resources
Help Clubs with Service
The 2020 – 2022 biennium is continuing to provide opportunities for Zonta clubs to partner with another charitable organization(s) or business(es) through services projects to directly improve women's and girls' lives in our communities, to strengthen the link between Zonta's local, and international levels and promoting the good name of Zonta at the local level.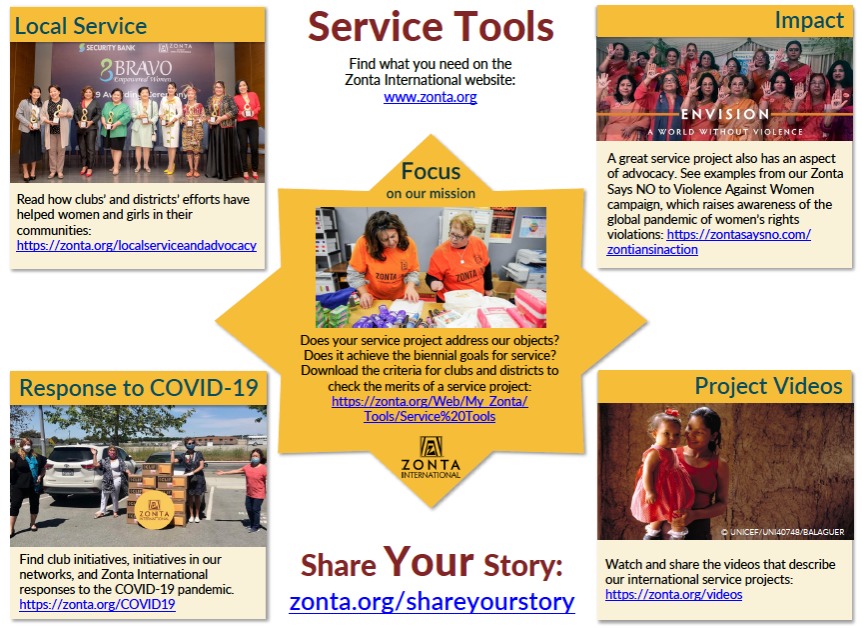 The purpose of the flyer is to help direct members to quickly find all relevant service information and tools that are available on the Zonta International website.  The flyer can be printed off and used as a visual reminder or opened and used to take you directly to the page you want by clicking on the link.
ZI Service Tool PDF link
GUIDELINES for Service Projects
Guidelines have been developed to ensure club projects are meeting criteria set out by Zonta International and our District.
Affiliation with other Organization Policy
Affiliation with Other Organizations Policy has been developed by Zonta Internationaland must be adhered to by D4 clubs.
Affiliation with other organizations guidelines
Affiliation with Other Organizations Guidelines has been developed by Zonta International and must be adhered to by D4 clubs.
Service Media Release Template
D4 Service has developed a media release template for your club's birthing kit project or other service projects.
District 4 Service Committee
D4 2019 Area Workshop Service Presentation
District 4 Service presented at this year's spring workshop. Presentation topics included:
What Responsibility do Clubs and District have to ZI?

Communications & Terminology

Checking out D4 Club Service Projects

Posing Questions and Having Difficult Conversations

How Can we be Effective, Efficient, and Engaging so that Our Projects are an Enjoyable Experience?

Let's Chat!