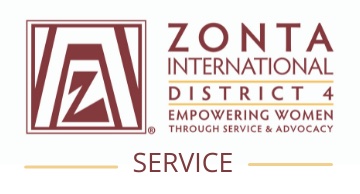 I would like to thank my committee Judy Powers, Jennifer Bliss, Ann Marie West and Faria Latif for their work this biennium in helping to promote service projects in our district. We hope the presentations we provided at conference, in two workshops and two D4 Service Talks (all delivered by zoom) helped provide your ideas for both hands on and covid style projects.
What a year…and I am so proud of every club who created, adapted and made hybrid projects to help your communities. Everyone moves forward at a different pace, listening to your members on safety and comfort issues. I also thank all of those who shared their projects in the newsletter and on the D4 website, and who spoke up during breakout sessions or Service Talks, so others could use your ideas. I am thrilled with the efforts each club made during this unprecedented time.
I know you will continue to make a difference in each of your communities. Wishing you all much success.
Brenda Graham
D4 Service Chair 2020-2022