Chris Ziemba Foundation Treasurer, Sara Garland accepting check
The Zonta Club of Cheektowaga-Lancaster held their December Holiday dinner party with club members enjoying a buffet dinner, followed by special guest Sara Garland from Haven House, Buffalo.  Sara gave a brief presentation about their services and accepted many items donated by the club members from a specific list of needs.   These included items for the shelter; men & women needs; baby and teen needs; children/teen program needs, and big gift opportunities.  In addition, the club collected cash donations at their November meeting  to fulfill  a particular request to purchase black pants.  This collection amounted to $252 and was presented to Sara along with the other gifted items which she took back to Haven House.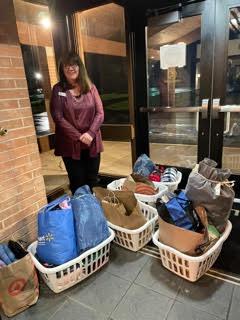 Waiting to load the car to take items back to Haven House

The collection of these items–Day 7: Gifting–was part of the Zonta Says NO to Violence Against Women campaign.  The club members also supported Day 13: Outreach, by collecting new and gently used bras which were sent to the Zonta Club of Warren in support of their "Free the Girls" initiative.
Haven House works to prevent domestic and intimate partner violence and promotes peace in the home. Services for survivors include an emergency shelter in a confidential location, long-term transitional housing, and counseling to help survivors of domestic violence escape their abusers aged 16 and older and their children. They do not discriminate based on race, color, national origin, religion, sex, gender, or disability.