On Saturday, March 20th, McMaster Golden Z is hosting a speakers' night featuring women with careers in STEM and/or social justice. Attendees are invited to hear a diverse panel of speakers talk about their careers, career paths, and their experiences in using their STEM careers to advocate for and advance social justice. The event will also feature Q&A sessions with each of the speakers, where attendees will have the chance to engage in conversation with and learn more about our speakers.
Attendees will automatically be entered in a raffle for a chance to win gift cards to local businesses.
We hope to see you there!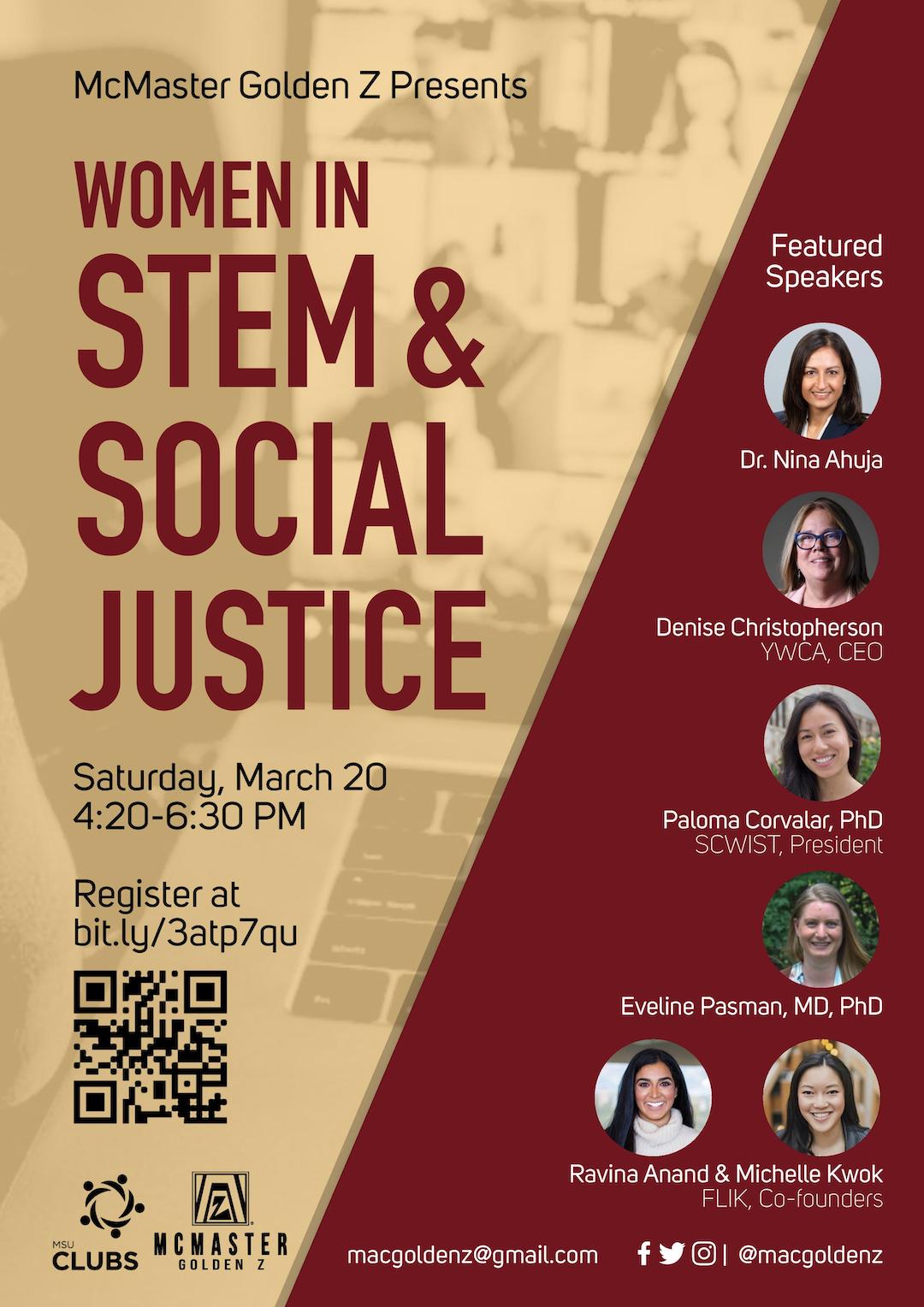 4:55-5:15 PM
Denise Christopherson
Denise Christopherson is an advocate for social justice and equity for women. As CEO of YWCA Hamilton, Denise builds relationships within the non-profit sector and broader community while continuing to actively volunteer in the Hamilton community and mentor women. Denise is also the recipient of many accolades in recognition for her work to advocate for women's issues
6:05-6:25 PM
Ravina Anand
Ravina Anand is a social-tech entrepreneur and the COO of Female Laboratory of Innovative Knowledge (FLIK), the first female-identifying apprenticeship portal. In a hyper globalized world, she aims to advance woman's economic participation and help woman from remote and underserved communities. Ravina was recognized as a Global Changemaker, has engaged in discussions with the President of Taiwan and the Earl and Countess of Wessex, collaborated with Woman's Initiative for Gender Justice, the United Nations, and attended the Assembly of State Parties.
4:30-4:50 PM
Dr. Nina Ahuja
Dr. Nina Ahuja, a graduate of McMaster University's medical school and the University of Ottawa's ophthalmology residency program, has practiced medicine for more than 20 years. She has been a key contributor in establishing the Ophthalmology Residency Program at McMaster University and is the recipient of numerous awards for excellence in teaching and for her contributions to medical education. Dr. Ahuja is also the founder of Docs in Leadership, which promotes and delivers leadership curriculum for health professionals; the author of bestseller "Stress in Medicine: Lessons Learned Through My Years as a Surgeon, from Med School to Residency, and Beyond;" and an advocate for health professionals' wellness.
6:05-6:25 PM
Michelle Kwok

alan
Michelle Kwok is the co-founder of FLIK, a female-focused platform & community hub connecting female founders/leaders and ambitious female students via meaningful apprenticeships. When selected to Next 36, Canada's premier program for young entrepreneurs, she discovered her niche at the intersection of technology and impact, realizing the gender disparity in entrepreneurship. She has been recognized as a Top 20 Women entrepreneur to watch in 2020, YWCA's Young Woman of Distinction in 2020, and a Conversationalist GenZ Honoree.
5:20-5:40 PM
Dr. Paloma Corvalan
Dr. Paloma Corvalan obtained her PhD in Animal Behaviour and is now the Partnerships and Development Manager at Sea Smart. She is passionate about science outreach, sustainability, and creating inclusive communities. At Sea Smart, Dr. Corvalan teaches youth about the threats that the oceans are facing and what they can do to help.
5:45-6:00 PM
Dr. Eveline Pasman
Dr. Eveline Pasman obtained her medical degree from the Radboud University Nijmegen and her PhD in Kinesiology/Neuroscience at University of British Columbia. She is a neuroscientist and physician. Currently, Dr. Pasman is a medical fellow at Western University where she is working with others to develop novel medical devices that address unmet clinical needs.
Zonta Club to Hold Fundraiser to Support Women's Empowerment The Niagara Falls chapter will be holding "Thinking Caps & Crazy Hats," a festive evening of trivia, appetizers, a basket auction, music and dancing, at the Niagara Riverside Resort on Saturday, October...
read more