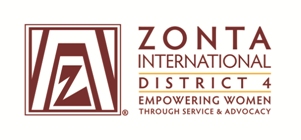 We Empower Women
ZONTA INTERNATIONAL IS A LEADING GLOBAL ORGANIZATION OF PROFESSIONALS EMPOWERING WOMEN WORLDWIDE THROUGH SERVICE AND ADVOCACY.
District 4 is a District of "Firsts"-first Club (Buffalo) in 1919 and first International Club (Toronto) in 1927.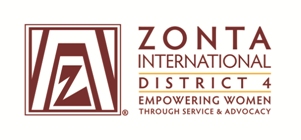 In this centennial biennium, we continue EMPOWERING WOMEN.  A Central idea that allows for honouring our past while … focusing our actions on our future.  In District 4 we wish to build bridges not only between our past and future but between clubs and districts.
D4 2019 Centennial
Conference Alert – August 14
DISTRICT 4   CONFERENCE ALERT – ACCOMMODATIONS UPDATE
If you have not been able to locate accommodations, a block of rooms has been set aside at the Wyndham Garden Buffalo Downtown Hotel, which is located at 125 High Street for 9/27-29/19.  The cost per night is $149 plus 13.75 tax.  Reservations can be made by calling 1-877-999-3223 and indicating that you are reserving a room under the Zonta Conference block.  If you have a car, parking is available for a $18 fee per night.  The hotel is a short distance from the Hyatt.  For additional information about the hotel you may want to check out their website at https://www.wyndhamhotels.com/wyndham-garden/buffalo-new-york/wyndham-garden-buffalo-downtown/overview The block of rooms will expire on August 20th.
Saturday Night Gala
 The 2019 Zonta District Centennial Conference is quickly approaching.  The conference provides an excellent opportunity to join with other Zontians in addressing current issues while celebrating 100 years in the city where it all began.   

As part of the conference, on Saturday night, September 28th, a Centennial Gala will take place. Since it is Zonta's Centennial Anniversary, the gala is being opened to guests, including Zonta members who are not attending the conference. The evening will begin at 7 p.m. with a cocktail reception, followed by dinner and entertainment by the Ladies First Jazz Big Band.  Jacquie Walker, News 4 Anchor will serve as the Mistress of Ceremony.

Saturday Dinner Gala reservations are being accepted through August 24th. Seating will be limited due to ballroom capacity. Reservations can be made by using the following link  https://zontadistrict4.org/d4-conference/d4-conference-online-registration-webpage/ Payment information is also included at this site.

Consider joining the celebration and moving Zonta forward toward the next 100 years!
D4 2019 Centennial Conference Committee
Our Current & Past District 4 Governors can't wait to see everyone at the conference in September and to show off the District Centennial Flag. You can follow the travelling flag on the district web site as it makes its way through our district .
The D4 Conference planning committee, led by Toni Majchrzak.
D4 Conference Committee Meeting June 15, 2019
D4 Conference Meeting Committee Members
Our District with clubs in both the USA and Canada is looking forward to a great centennial celebration at the D4 Conference in September.

Friday, June 7 – Sunday, June 9, 2019
North American Interdistrict Meeting

Sept 27 – 29, 2019 Buffalo, NY
Wyndham Garden Buffalo Downtown Hotel, 125 High Street, Buffalo, NY, 14203.  Reservations 1-877-999-3223 Zonta Conference Block.
Conference Location: Hyatt Regency Buffalo / Hotel and Conference Center, 2 Fountain Plaza, Buffalo, NY 14202, USA
What
'
s Happening in your Area?
Consider Supporting
D4 Club Events

Zonta in the summertime! The D4 Leadership Development Committee is offering you an opportunity to learn more about Zonta in a relaxed and casual location, at a time that works for you - your home, this summer! You can spend about 10 minutes once a month to be...
read more
D4 Biennium
Centennial Activities
The D4 Travelling Flag Project

Zonta International District 4 Gov. Bonnie Clesse, left, and Zonta Club of Buffalo President Mary Vacanti display the District 4 Traveling Flag, at the club's business meeting on Feb. 19. (Photo by NKSK Photography)
The D4 Travelling Flag Project
The Flag will be travelling to all six D4 Areas and its 35 clubs over the Centennial biennium.  The flag was unveiled in Buffalo, NY on November 25, 2018, with the officially signing by Governor Bonnie Clesse & ZC of Buffalo President, Mary Vacanti on February 19, 2019.
The District 4 Centennial Travelling Flag begins the third leg of its journey. The flag will be in Area 2 for the months of July to September. The flag will make a special stop at the Canada-U.S.A border prior to the Centennial  Conference. This event will signify Zonta becoming and International organization with in chartering of the ZC of Toronto in 1927.

Fort Erie Area Club President Judy Kramer with Barb Ruegg signs D4 Travelling Flag on April 17, 2019. Photo taken by club member.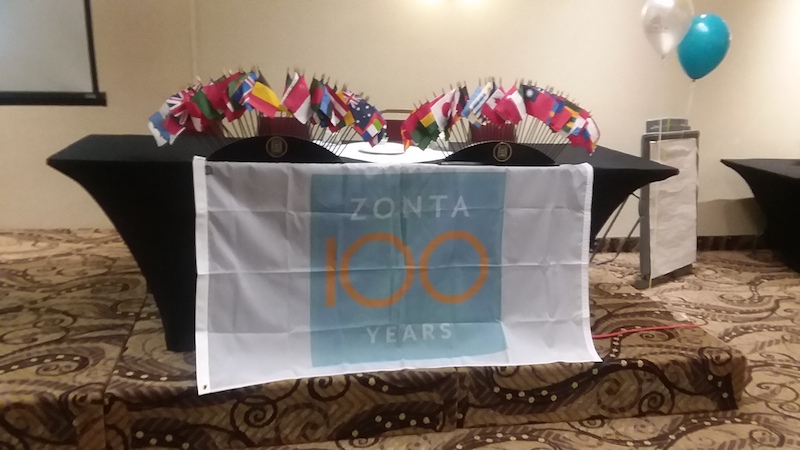 D4 Centennial Travelling Flag is presented to Area 1 & 2 Workshop attendees on April 27, 2019. Photo was taken by D4 member.

Donna Monaco, President of the Zonta Club of Grand Island, signing the flag. Picture taken by Grand Island member on April 28, 2019.


Area 2 Director, Brenda Graham passing the Travelling Flag to Area 3 Director, Jenny Johnston.  Photo taken by Scott Johnston in Burlington, ON on April 9, 2019.

Travelling Flag at the Kenmore Club Lucky Number Dinner on 4/10/2019 pictured are Area 3 Director, Jenny Johnston, Kenmore Club member Katherine Gugino, and Kenmore Club President Janet Biondolillo.  Picture taken by Club member Sue Murphy.

Fort Erie club members; Maria Abliberti Wilma Storm, Kathy Smith, Ethel Baer, Barb Ruegg and Judy Kramer with Centennial Flag on April 17, 2019. Photo taken by club member.

Travelling Flag proudly desplayed at ZC of Grand Island's Fashion Show. Left to right: Donna Monaco, Liz McPhail, Sue Brusino, Lyn Laman, Karen Keefe, Denise Dunbar, Stacey Watt, Andrea Moreau, Linda Kutzbach, Ricki Harper, Agnes Becker.

Sue Mawhiney, President Zonta Club of Lockport, NY. Photo taken by Jenny Johnston on 5/14/2019 at the Country Club of Lockport.

Members of the Zonta Club of St. Catharines.  Photo taken by Jenny Johnston on 6/15/2019.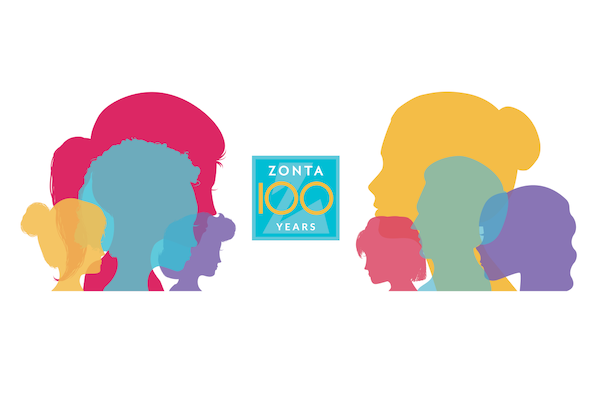 District 4 Grantees are:
ZC of Kitchener-Waterloo partnering with Sexual Assault Support Centre of Waterloo Region for the KW Zonta Poster Project.
ZC of Niagara Falls, NY partnering with Pinnacle Community Services for the Zonta Fresh Start Initiative for Passage House Project.
ZC of Rochester partnering with Resolve of Greater Rochester, Inc. for the Improving Safety and Empowering Intimate Partner Violence Survivors Project.
Almost 300 applications were received from 41 countries for the Centennial Anniversary Grant program, which was initiated to celebrate Zonta's 100th year of service to women and girls.
Congratulations to the Zonta clubs of Kitchener-Waterloo, Niagara Falls, NY & Rochester, as well to all clubs who submitted grant proposals!
D4 Committee
Information Posts
District 4 Committees are eager to assist you. Follow the links for more information, material and resources.  

District 4 Foundation Ambassador UpdateEach year on 8 March, we celebrate Zonta Rose Day in conjunction with International Women's Day. In many countries around the world, International Women's Day is a day when women are recognized for their achievements regardless...
read more

Zontians all over the world will celebrate the uncompromising spirit of Amelia Earhart throughout the month of January. As one of our most famous Zonta members, we commemorate her birthday on January 11. We still wonder what happened to Amelia Earhart. Did the...
read more

The Foundation Ambassadors for District 4 are challenging our members to put $2.00 per week away from Sept 1st 2018 to the end of Sept 2019 when our District Conference will be held in Buffalo. You will have saved $100. US dollars for our 100th celebration. If you...
read more

As part of the 16 Days of Activism, the Zonta Club of Batavia-Genesee County has arranged for the old Genesee County Court House on Main Street in Batavia to be lit with orange lights throughout the 16 days.
read more
View Image Gallery of Events in District 4
read more
Zonta International members raise a flag to kick off its campaign against gender-based violence Sunday at Niagara Square. (John Hickey/Buffalo News) Zonta Club gathering focuses awareness on violence against women By Mark Sommer | Published November 25, 2018 |  Sunday...
read more
    Zonta and the United Nations Visiting the United Nations is always a great opportunity for Zonta members. In the past, many of our members had taken advantage of the League of Women Voters New York State (LWVNYS) UN Day which has been held in November....
read more
CTVNews.ca Staff Published Thursday, October 11, 2018 10:40PM EDT To mark International Day of the Girl on Thursday, Plan International Canada urged Canadians to challenge the norms of gender inequality. "We're having more and more honest conversations on the topic of...
read more
CTVNews.ca Staff Published Thursday, October 11, 2018 12:01PM EDT Two in three Canadian girls say they have a friend who has been sexually harassed; more than 75 per cent of girls between the ages of 14 and 24 report experiencing gender-based...
read more
Zonta International & District 4
Mission & Vision
 Misson
Zonta International is a leading global organization of professionals empowering women worldwide through service and advocacy.
Vision
Zonta International envisions a world in which women's rights are recognized as human rights and every woman is able to achieve her full potential.
In such a world, women have access to all resources and are represented in decision making positions on an equal basis with men.
In such a world, no woman lives in fear of violence.
Various advocacy campaigns to bring awareness to ending gender violence.
Service projects such as assembly of birthing kits for women in developing countries.
Club celebrate and host special events to bring attention to women's issues and to raise funds for local and global initiatives.


Over 810 Members,  15 Z Clubs &
1 Golden Z Clubs
Locally & Globally
Empowering Women
Service & Advocacy
Members in District 4 offer service and advocacy to both their local and international communities through a wide range of service projects and events.  Our members regularly support functions to acknowledge International Women's Day and Zonta Rose Day, on the 8th March, and United Nations International Day for the Elimination of violence against women, November 25th.


Your Applause Please
amazing Women in D4
Congratulating Our District 4 Centennial Award Winners
Areas 1, 2 & 3 Canadian Award Winner
Timea Nagy, Founder of Walk With Me Canada Victim Services, author & human trafficking survivor.
Timea was nominated by the Zonta Club of Kitchener-Waterloo.
Areas 3 & 4 American Award Winner
Mary Travers Murphy, Executive Director, Family Justice Center
The Zonta Clubs of Cheektowaga-Lancaster, Buffalo, and Hamburg-Orchard Parkall nominated Mary.
Areas 5 & 6 American Award Winner
Susan Evans, philanthropist, author & ovarian cancer survivor.
Sue was nominated by the Zonta Club of Bradford.

Jane M. Klausman Women in Business Scholarship 
Katie Chen was nominated by the ZC of Kitchener-Waterloo and awarded the D4 JMK award for Women in Business scholarship for $1500.  Katie goes to Western University and is studying accounting, business and finance. This ambitious woman stood for our district in the ZI JMK scholarship award selection in the fall of 2018.
Meet Our 2019 District 4 & Zonta International YWPA Winner
Amal

Qayum
Amal's nomination was submitted by Niagara Falls, Canada and was selected as the District 4 Young Women in Public Affairs scholarship winner for 2019 in May.  In July, we received word that Amal was also a scholarship recipient from ZoInternational.  Congratulations Amal!  


Meet Zonta International Amelia Earhart Fellowship winner from District4
Emily Rae Gleeson
Emily was selected as one of 10 2018 Zonta International Fellows.  Emily is studying Aerospace Engineering at Ryerson University.  
D4 Members Serving on
Zonta International committees

Kathleen Douglass, Leadership Development Chairman

Holly Anderson, Amelia Earhart Fellowship Committee Chairman

Lori Robinson, Leadership Development Committee
D4 recognition at
64th Zonta International Convention
The ZC of Niagara Falls, NY was awarded first place for the Zonta International Service Award.  Their project is entitled 'It's Not Your Fault – Sexual Assault is a Crime Project.'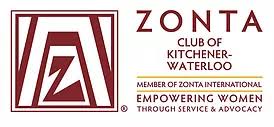 The ZC of Waterloo was acknowledged at Convention for their contribution of $20,000+ USD to the Zonta International Foundation.