Reporting from Woodstock, ON Canada

Governor Sheena
December Update
Hello, District 4,
A big 'THANK YOU' to everyone who supported the Zonta Foundation for Women's Every Member Every November (EMEN). After such a busy November, each of you deserves downtime with family and friends and maybe a few parties to spice up the season. I wish you wellness, love, and Zonta Spirit in the coming season.
Please read our e-News and the D4 social media posts and log into the D4 members' website to find ideas and resources for your clubs to use. Put the phrase 'When you share, you inspire' into practice to lessen the work for you and your club.
The 16 Days of Activism and the Zonta Says NO campaign is still underway. I'm delighted that clubs continue to host in-person and online events to build awareness of gender-based violence and promote Zonta's involvement! I've attended several events and wish to shout out to Nancy & Marcia from ZC of Washington County for driving multiple hours to join us at the Falls. Thanks to the Zonta clubs of Niagara Falls, ON and St. Catharines for organizing a great program and turning the Canada and US Falls orange. It was spectacular! I know our other D4 clubs are exceeding expectations and promoting the ZSN campaign in their own way. Well done, District 4! Don't forget to share how D4 coloured our part of the world orange.

Register for Next D4 Online Talk – Monday, January 23rd, from 7-8 PM. The Building Team will be discussing building members and clubs in D4. Hint: Are you preparing to use International Women's Day as a membership tool? Register Now! 
Clubs are expected to have at least one representative at each D4 Talks.

Mark Calendar for D4 Spring Summits (aka Workshops) – New name, format and open to potential members and interested public members. Registration is coming soon with a fee of $60 CAD for Canadian members & $60 US for American members.
Each club is expected to have a strong representation at its Area Summit.
Areas 1 & 2: Saturday, March 25, 2023, Springfield Golf & Country Club, Guelph, ON
Areas 3 & 4: Saturday, April 15, 2023, Elden's Grill & Banquet, Grand Island, USA
Areas 5 & 6: Saturday, April 22, 2023, The Hall, Allegany, NY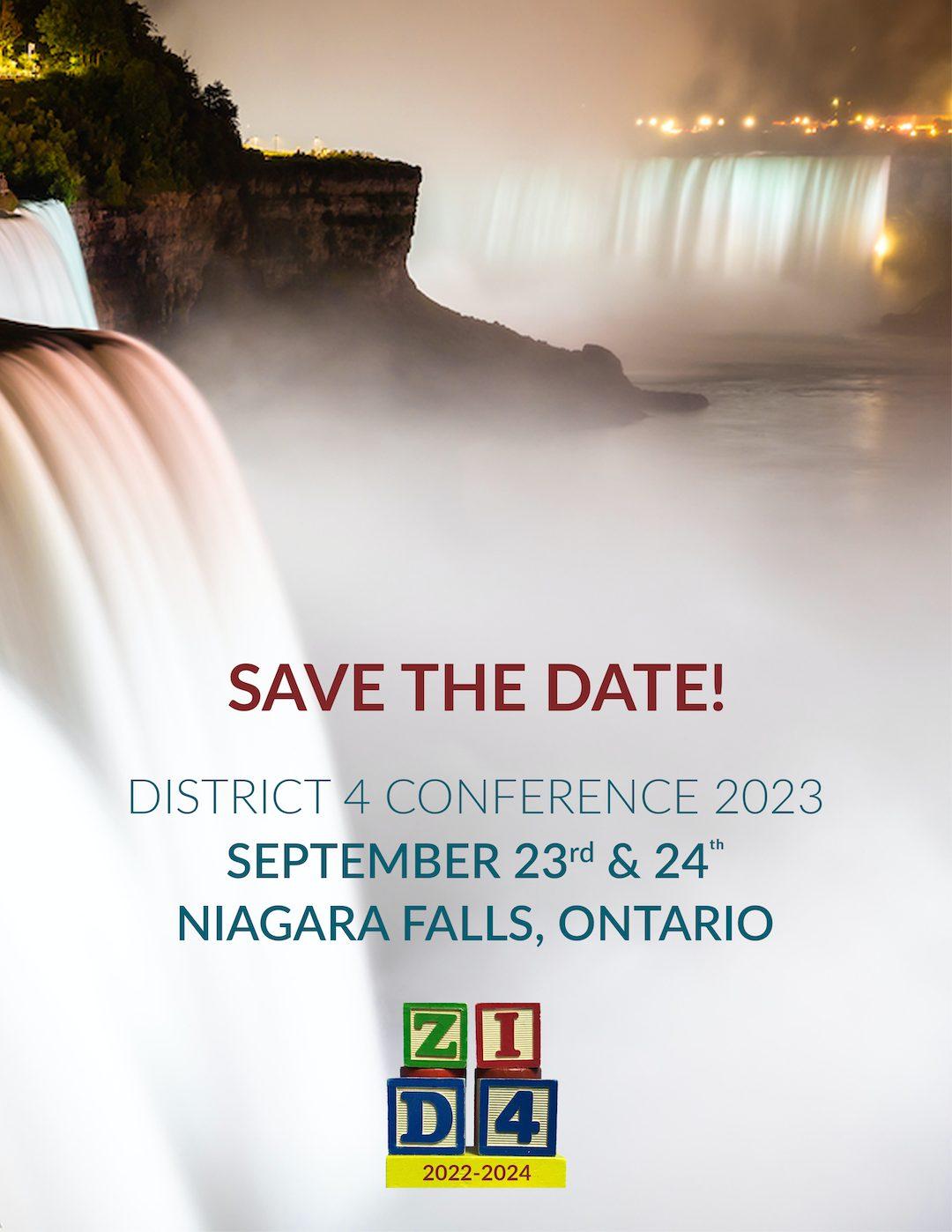 SAVE the DATE for the 2023 District 4 Conference Friday & Saturday, September 23rd & 24th, 2023, with optional Sunday activities. Marriott Niagara Falls Fallsview, ON
Zonta International's Zonta Says NO Across the Globe

    In Zonta Spirit,
    Sheena Poole, D4 Governor
WHAT IS ZONTA?
Zonta International is a leading global organization of professionals building a better world for women and girls.
District 4 has 31 clubs with 620 members in 6 Areas from Western Ontario to Western New York & Pennsylvania States.
We welcome conversations about Zonta and your involvement.
Contact Us
Zonta District 4
D4 (Committee) Resources – menu dropdown
ZONTA INTERNATIONAL
26,103 members in 1,123 clubs from 32 Districts in 63 countries working together to improve the lives of women and girls.