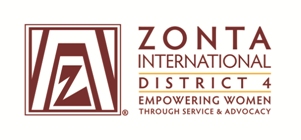 We Empower Women
ZONTA INTERNATIONAL IS A LEADING GLOBAL ORGANIZATION OF PROFESSIONALS EMPOWERING WOMEN WORLDWIDE THROUGH SERVICE AND ADVOCACY.
District 4 is a District of "Firsts"-first Club (Buffalo) in 1919 and first International Club (Toronto) in 1927.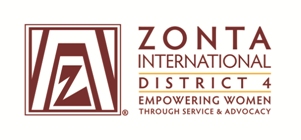 In this centennial biennium, we continue EMPOWERING WOMEN.  A Central idea that allows for honouring our past while … focusing our actions on our future.  In District 4 we wish to build bridges not only between our past and future but between clubs and districts.
Our Current & Past District 4 Governors can't wait to see everyone at the conference in September and to show off the District Centennial Flag. You can follow the travelling flag on the district web site as it makes its way through our district .
The D4 Conference planning committee, led by Toni Majchrzak.
D4 Conference Committee Meeting June 15, 2019
D4 Conference Meeting Committee Members
Our District with clubs in both the USA and Canada is looking forward to a great centennial celebration at the D4 Conference in September.

Friday, June 7 – Sunday, June 9, 2019
North American Interdistrict Meeting

Sept 27 – 29, 2019 Buffalo, NY
Hyatt Regency Buffalo / Hotel and Conference Center, 2 Fountain Plaza, Buffalo, NY 14202, USA
What
'
s Happening in your Area?
Consider Supporting
D4 Club Events

WHAT: A toast to celebrate the planting of the Zonta Rose, marking the centennial of the 1919 founding of Zonta in Buffalo WHEN: 4 p.m. Thursday, July 11   Due to the weather forecast the event has been cancelled.  New date to be determined. WHERE: Delaware Park Rose...
read more
D4 Biennium
Centennial Activities
The D4 Travelling Flag Project

Zonta International District 4 Gov. Bonnie Clesse, left, and Zonta Club of Buffalo President Mary Vacanti display the District 4 Traveling Flag, at the club's business meeting on Feb. 19. (Photo by NKSK Photography)
The D4 Travelling Flag Project
The Flag will be travelling to all six D4 Areas and its 35 clubs over the Centennial biennium.  The flag was unveiled in Buffalo, NY on November 25, 2018, with the officially signing by Governor Bonnie Clesse & ZC of Buffalo President, Mary Vacanti on February 19, 2019.
The District 4 Centennial Travelling Flag begins the second leg of its journey. The flag will be in Area 3 for the months of April and May. The flag will also be displayed at District 4's three Workshops.  The Flag has completed its journey through Area 1.

Fort Erie Area Club President Judy Kramer with Barb Ruegg signs D4 Travelling Flag on April 17, 2019. Photo taken by club member.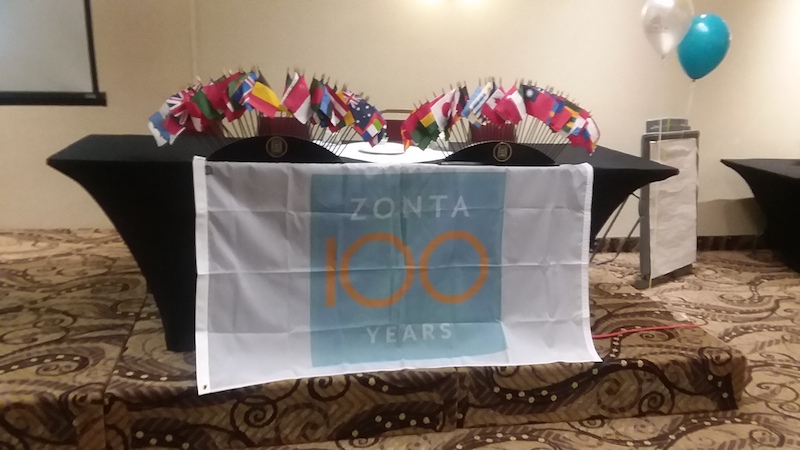 D4 Centennial Travelling Flag is presented to Area 1 & 2 Workshop attendees on April 27, 2019. Photo was taken by D4 member.


Area 2 Director, Brenda Graham passing the Travelling Flag to Area 3 Director, Jenny Johnston.  Photo taken by Scott Johnston in Burlington, ON on April 9, 2019.

Travelling Flag at the Kenmore Club Lucky Number Dinner on 4/10/2019 pictured are Area 3 Director, Jenny Johnston, Kenmore Club member Katherine Gugino, and Kenmore Club President Janet Biondolillo.  Picture taken by Club member Sue Murphy.

Fort Erie club members; Maria Abliberti Wilma Storm, Kathy Smith, Ethel Baer, Barb Ruegg and Judy Kramer with Centennial Flag on April 17, 2019. Photo taken by club member.

Travelling Flag proudly desplayed at ZC of Grand Island's Fashion Show. Left to right: Donna Monaco, Liz McPhail, Sue Brusino, Lyn Laman, Karen Keefe, Denise Dunbar, Stacey Watt, Andrea Moreau, Linda Kutzbach, Ricki Harper, Agnes Becker.
D4 Committee
Information Posts
District 4 Committees are eager to assist you. Follow the links for more information, material and resources.  

Z Club of North Park Secures 3rd Place in 2019 Emma L. Conlon Service Award Congratulations to the Z Club members of North Park Z Club! Check out their application video Found at www.youtube.com/watch?v=8ihQM7axvnU The North Park Z Club is sponsored by the ZC...
read more

Zonta in the summertime! The D4 Leadership Development Committee is offering you an opportunity to learn more about Zonta in a relaxed and casual location, at a time that works for you - your home, this summer! You can spend about 10 minutes once a month to be...
read more

Message July 1, 2019 Dear Zontians, HAPPY JULY! July 14 is just 2 weeks - or - 14 days from now.  That's the registration deadline for our Centennial Conference at the Early Bird price of $225 USD. We'd like everyone to pay just $225 USD. After that, the registration...
read more
Zonta International & District 4
Mission & Vision
 Misson
Zonta International is a leading global organization of professionals empowering women worldwide through service and advocacy.
Vision
Zonta International envisions a world in which women's rights are recognized as human rights and every woman is able to achieve her full potential.
In such a world, women have access to all resources and are represented in decision making positions on an equal basis with men.
In such a world, no woman lives in fear of violence.
Various advocacy campaigns to bring awareness to ending gender violence.
Service projects such as assembly of birthing kits for women in developing countries.
Club celebrate and host special events to bring attention to women's issues and to raise funds for local and global initiatives.


Over 810 Members,  15 Z Clubs &
1 Golden Z Clubs
Locally & Globally
Empowering Women
Service & Advocacy
Members in District 4 offer service and advocacy to both their local and international communities through a wide range of service projects and events.  Our members regularly support functions to acknowledge International Women's Day and Zonta Rose Day, on the 8th March, and United Nations International Day for the Elimination of violence against women, November 25th.


Your Applause Please
amazing Women in D4
Congratulating Our District 4 Centennial Award Winners
Areas 1, 2 & 3 Canadian Award Winner
Timea Nagy, Founder of Walk With Me Canada Victim Services, author & human trafficking survivor.
Timea was nominated by the Zonta Club of Kitchener-Waterloo.
Areas 3 & 4 American Award Winner
Mary Travers Murphy, Executive Director, Family Justice Center
The Zonta Clubs of Cheektowaga-Lancaster, Buffalo, and Hamburg-Orchard Parkall nominated Mary.
Areas 5 & 6 American Award Winner
Susan Evans, philanthropist, author & ovarian cancer survivor.
Sue was nominated by the Zonta Club of Bradford.

Jane M. Klausman Women in Business Scholarship 
Katie Chen was nominated by the ZC of Kitchener-Waterloo and awarded the D4 JMK award for Women in Business scholarship for $1500.  Katie goes to Western University and is studying accounting, business and finance. This ambitious woman stood for our district in the ZI JMK scholarship award selection in the fall of 2018.
Meet Our 2018 District 4 YWPA Winner
Sanah Handu
Sanah was selected as the Zonta Club of Washington County, PA Young Women in Public Affairs Award recipient and advanced to the District where she was awarded our District's YWPA winner in May 2018.


Meet Zonta International Amelia Earhart Fellowship winner from District4
Emily Rae Gleeson
Emily was selected as one of 10 2018 Zonta International Fellows.  Emily is studying Aerospace Engineering at Ryerson University.  
D4 Members Serving on
Zonta International committees

Kathleen Douglass, Leadership Development Chairman

Holly Anderson, Amelia Earhart Fellowship Committee Chairman

Lori Robinson, Leadership Development Committee
D4 recognition at
64th Zonta International Convention
The ZC of Niagara Falls, NY was awarded first place for the Zonta International Service Award.  Their project is entitled 'It's Not Your Fault – Sexual Assault is a Crime Project.'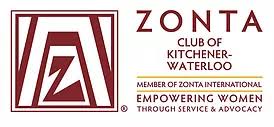 The ZC of Waterloo was acknowledged at Convention for their contribution of $20,000+ USD to the Zonta International Foundation.