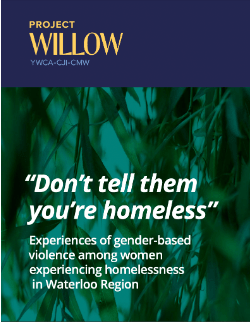 The Zonta Club of Kitchener-Waterloo invites you to join us for a session about "Project Willow".
 

Hear about the challenges and obstacles faced by homeless women in Waterloo Region.
Thursday, December 1, 2022, from 7:00 p.m.
Online
Project Willow works towards systems change based on two experiences: a) the experience of gender-based violence among women (cis, trans, two-spirit and non-binary folks) who are experiencing homelessness and using emergency services and b) the experience of homelessness due to gender-based violence experienced among immigrant women (cis, trans, two-spirit and non-binary folks).
Project Willow is being led by three organizations local to Waterloo Region: the YW Kitchener-Waterloo a leader in providing shelter and housing for women in Waterloo Region, Community Justice Initiatives, a leader in restorative and transformative justice, and Coalition of Muslim Women, a leader in supporting immigrant women in the community who have experienced gender-based violence.
Our session on December 1 will provide an opportunity to hear about experiences faced by homeless women and the challenges and obstacles that prevent them from accessing supportive housing so they can get on with their life.  The presentation will be followed by a question and answer period so participants can gain a greater understanding of what homeless women face in their day-to-day living.
The presentation will be led by Jennifer Gordon, Director of Advocacy at YWKW and Kate Crozier, Director of Programs at Community Justice Initiatives.
To register for this event please check the D4 website in the next few days when this information will be posted with the contact email address so you can get on the invitation list.