Don't hide your orange Zonta Says NO colour under your winter jacket – wear it on your head!
Zonta Clubs of Pittsburg, Kitchener/Waterloo, Brampton-Caledon, Hamilton, St. Catharines and Woodstock all have theirs.  Even incoming International President Ute has her orange hat.
Zonta Club of Toronto is selling hand-made hats in Zonta Orange. We have a small supply in stock, but our elves will be working all summer to make sure that anyone who wants one will get one. 
It is easier if we can ship multiple hats to a club rather than individually.  However, we will do our best to accommodate individual orders.  We can also fulfil orders by delivering to the D4 Board and Committee Chair meeting in September.
Talk to your club members and use the order form attached to place your order for delivery this fall.
Made with soft, thick baby blanket yarn.  They are washable and have a double band for extra warmth over your forehead and ears.
Cost is $15.00.     The attached order form contains payment information
Proceeds from the sale of the orange hats fund our scholarships – YWPS, Klausman and others.

 

We thank you in advance for your support!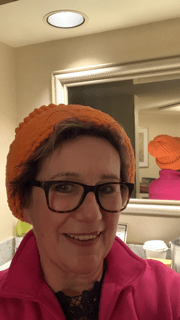 ZI President-Elect Ute has hers.

ZC of Pittsburgh has theirs.

ZC of Woodstock has theirs.